Donny Osmond continues to shine in Hollywood's spotlight. He might be a superstar on-screen, but he is just an ordinary man among his neighbors.
Donny Osmond has a proven track record of being a multi-talented man – he is a singer, actor, TV host, and best-selling author. He is also a commercial speaker, motivational speaker, and racecar driver.
The music superstar, who was born in 1957, has achieved 33 gold records in the span of his career. He has sold more than 100 million albums establishing himself as a music legend.
Being a showman runs in Donny's blood, and his ability to entertain has remained timeless. He and his musically-inclined siblings have been in the show business for a long time.
The acclaimed crooner was part of the famous 1970 musical group The Osmonds, which consists of his equally-talented siblings Jimmy, Marie, Virl, Merrill, Alan, Jay, and Wayne.
In addition to the musical band, Donny also had a hit variety show with his sister, Marie, titled "Donny & Marie" in 1976. The duo's performance earned many accolades for being outstanding performers.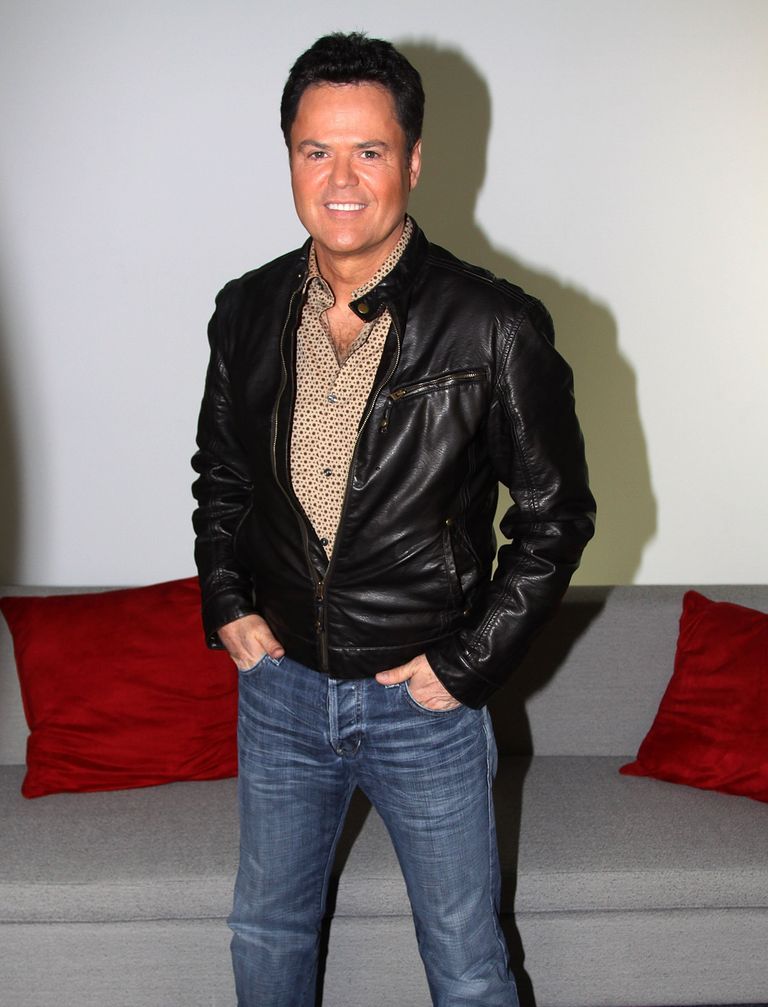 In 2009, "Dancing with the Stars" crowned Donny as a champion for season nine, which amassed 37 million viewers weekly. Due to his varied career choices, he has captivated many audiences.
He starred on Broadway as Gaston in Disney's "Beauty and the Beast" and hosted two TV series on the British TV network. He also performed at the Concert for Diana, a benefit show for the late Princess Diana.
From entertainment, he eventually branched out in business. He launched a home furnishing line called Donny Osmond Home in 2013, with his longtime wife and former actress Debbie.
HIS WIFE FOR LIFE
Donny has been married to Debbie for over 40 years. The proud husband said his family is his top priority, and he was grateful to have a wife, who he described as a "silent giant." He said:
"Show biz can be a very crazy life, but I've found a wonderful stability in her, and it has made a world of difference [sic]."
Donny was 19 when he wed 18-year-old Debbie in 1978. He said his wife was an "amazing person" to be with, and if he had not married her, he would be a mess.
Much of the showman's success has attributed to his love for his wife and family. Being members of the Church of Jesus Christ of Latter-day Saints, Donny said he and Debbie value kindness and forgiveness.
According to Donny, their religion stresses the importance of respect in their marriage since they are bound together for life. Donny said they are equal in the household, particularly in decision-making.
In addition to maintaining equality and religious values in their union, Donny, who has been in the spotlight for years, said he is eager to protect his family's privacy.
FINDING THE PERFECT SPOT
The master showman and his family lived in different areas in the past – in California, Toronto, and Chicago. Born in Ogden, Utah, Donny moved to California when he was three years old.
After tying the knot with Debbie, the couple stayed in Provo, Utah, until 1985 and returned to California. Because of Donny's thriving career, the pair relocated again.
The couple moved to several places in Toronto and Chicago while Donny was doing the musical "Joseph and the Amazing Technicolor Dreamcoat." Afterward, they decided to settle back in Provo.
HOME SWEET HOME
Donny and Debbie have a beautiful abode in Provo. Their gorgeous estate includes an elegant living room with a large fireplace, a vineyard, a man cave, and a recording studio filled with his albums.
The couple's home featured a refreshing pool with outdoor furniture and a massive backyard, where they held family gatherings. They previously threw a gender reveal party for their son, Christopher.
In front of their house, it had a long driveway beside it, where neighbors' children would gather. Donny has allowed the kids to express their creativity by drawing fun cartoons on the ground.
JUST OL' UNCLE DONNY IN THE NEIGHBORHOOD
Some children called the veteran singer "Uncle Donny." Donny said he enjoyed his leisurely trips to a grocery store where employees would treat him like a friend. He spoke of their home:
"In the crazy world of entertainment, it is so comforting to live with my family in an area where we can just be a family."
Donny said the Provo residents treated him and his family like ordinary neighbors. It gives him great comfort to know that their neighbors respect and value their privacy.
Donny enjoyed being a neighbor who could enjoy the perks of living in the neighborhood and being part of the community. He considered Provo as his "home base" for the years to come.
Besides Christopher, he and Debbie have other sons Donald Jr., Jeremy, Brandon, and Joshua.
Donny's former home in Chicago – a midcentury colonial-style house – was sold for $1.18 million. He and Debbie lived there in the late 1990s before moving to Provo for good.
DONNIE & DEBBIE'S LOVE FOR HOME DECORS
Staying in Provo, Donnie and Debbie developed their love for home decors. The global singing sensation said their interest started at the start of their marriage.
The renowned entertainer added that decorating is more than just a hobby. Although he lacks an eye for design, Donny said Debbie helps him out as she previously studied interior design.
It was also the reason why they founded their home decorating collection. Donny stated that enhancing the beauty of their home is something that they can do for the rest of their lives.
PROUD DAD OF 5 BOYS
As much as he is proud of his creative wife, Donny is also a proud father to five boys. Besides Chris, he and Debbie have other sons Donald Jr., Jeremy, Brandon, and Joshua.
All of the couple's sons are happily married and are professionals. Donny works at a public relations firm, Jeremey works as a physical therapist, and Christopher delves into photography.
Brandon has dabbled in many works. He works as an art director, advertiser, photographer, musician, and singer. Joshua works as a missionary for The Church of Jesus Christ of Latter-Day Saints.