Four-year-old Christian Jacobs melted hearts after a message he left for his father during his visit to Arlington National Cemetery on Memorial Day broke the internet. Find out what the boy said.
Every year, citizens celebrate Memorial Day, remembrance of servicemen and women who lost their lives while fighting for the United States. In 2015, many gathered at Arlington National Cemetery to remember the fallen heroes.
However, pictures of one woman and her son's visit to Arlington Cemetery made the headlines. In the cemetery, four-year-old child Christian Jacobs visited his father's grave clad in a replica Marine Corps uniform.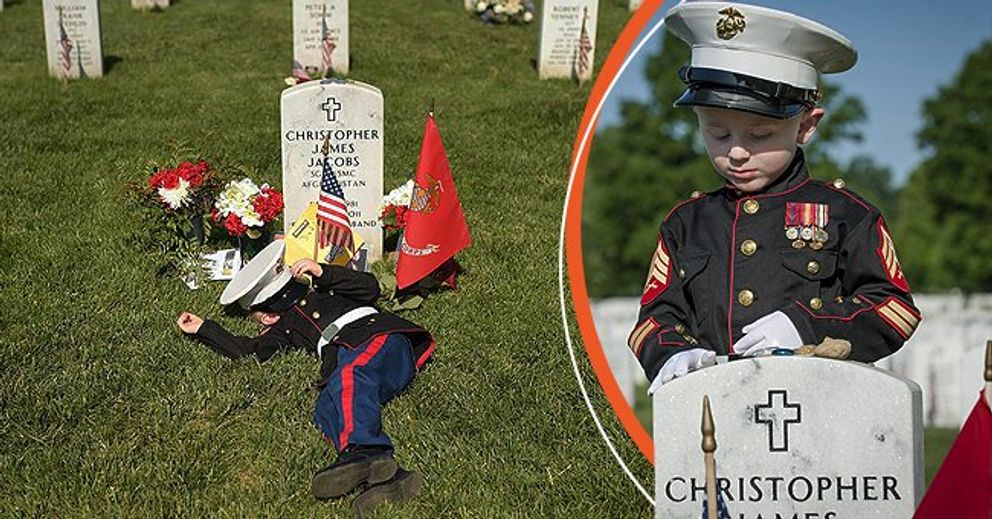 Christian and his mom, Brittany Jacobs, lost Sergeant Christopher James Jacobs, a father, and husband, four years before that Memorial Day. He died during a training accident when his son was only eight months old.
Despite not knowing about his dad, Christian always loved to pay him a visit at the grave. Brittany told WBRC that her son wanted to know much about his father and was excited about visiting Arlington.
Boy's plea at Marine father's grave: "Come back, Daddy:" http://t.co/Wdl9pTtV7a

pic.twitter.com/N1pWpVe2AW

— Eyewitness News (@ABC7NY) May 26, 2015
Christian's excitement prompted him to leave an emotional message for his father, which went viral. The little boy's message was:
"I hope for you to come back soon, daddy. And I love you and hope for you to be here. I know you will be here and I love you. And he is always watching over me and makes sure he's proud of me."
Christopher, whose last words to his wife and son were "I love you guys," will always be remembered by his family and the United States. Former US President Barack Obama was also present to honor the fallen heroes.
Boy's plea at Marine father's grave: "Come back, Daddy" http://t.co/h1pwKdNz3n by @Rich_Calder, @FrankRosarioNYP pic.twitter.com/y9SsOSXQ9V

— Connor Ryan (@connortryan) May 26, 2015
Two years after Christian Jacobs made the headlines, two brothers, Mason and Mylan Brazel, went viral after visiting their father's tomb at Arlington National Cemetery for the first time during the 2017 National Memorial Day.
The brothers lost their father, Alfred Brazel, to Stage IV rectal cancer on July 31, 2017, five months after he was diagnosed. So, they decided to visit their father's Virginia grave to spend time with him, like he did when he was alive. Mason and Mylan's mother, Kait Brazel, told People:
"They laid down and chatted with him and shared what was going on in their lives. Then Mylan said that he wanted to take a nap with him."
Boy's plea at Marine father's grave: 'Come back, Daddy': http://t.co/8piRs6Orrl pic.twitter.com/newIXs8q9R

— ABC 7 Chicago (@ABC7Chicago) May 26, 2015
Brazel said she felt proud of her sons while they were there. Although it was said that the boys could not respond to their dad, seeing them share their lives with his headstone was everything.
She said most families who had servicemen and women buried in Arlington lived far and could not visit, but the fact that she and her sons could visit Alfred's grave was a blessing.